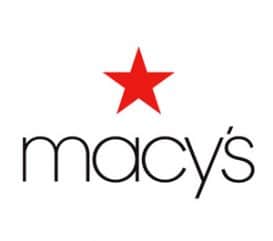 About Macy's
Welcome to Macy's Orlando, where every visit is a journey into the heart of a shopping paradise! With three (3) participating locations in the city of Orlando, Macy's stands as a landmark of retail excellence, inviting travelers and locals alike to indulge in a world of fashion, comfort, and unbeatable deals. 
The retailer's legacy stretches back to 1858 when Macy's grew from a simple dry goods store to one of the largest and most respected department stores in America renowned for its quality, service, and style.
Macy's is more than just a store—it's a trusted friend in the world of retail. Whether you're seeking the latest fashion trends or the perfect home accessory, Macy's Orlando promises an experience that combines the best of modern shopping with the rich expertise and trustworthiness that only a store with over a century of customer satisfaction can offer. 
Think you'd like a second opinion from a style expert? Macy's has you covered! Book an appointment with a personal stylist who can assist you with all your shopping needs. This level of service is a testament to Macy's commitment to customer satisfaction and adaptability, ensuring that each visitor has a personalized and memorable shopping experience.
A beacon of American retail, Macy's stands as a favorite shopping destination for travelers visiting Orlando. Its vast selection and appeal to both domestic and international visitors are evident in the experiences offered at its stores. With over 800 locations nationwide, Macy's has honed the art of catering to shoppers with diverse needs.
How can you save money when shopping at Macy's in Orlando?
Enters The Eat and Play Card: a super-saver traveler's dream! It can be used at Macy's as well as other stores and restaurants in Orlando to get discounts on what you buy. When you visit a participating Macy's locations in Orlando, you receive an exclusive visitor 10% discount valid on most merchandise and with very few restrictions. Shop and save with confidence during your vacation in Orlando.
Participating Locations
Fashion Square
3505 E. Colonial Dr
Orlando, Florida
407-896-5300
MAP
Mall at Millenia
4298 Millenia Blvd
Orlando, Florida
407-264-2300
MAP
Florida Mall
8001 S. Orange Blossom Trail
Orlando, Florida
407-854-2300
MAP
Visit Macy's in Orlando, where the blend of luxury, affordability, and exclusive savings create a shopping haven for travelers. Whether you're a domestic visitor or an international traveler, the Macy's experience in Orlando is designed to enhance your visit and offers an enticing reason to return.
Find out where else you can shop and save with an Eat and Play Card in Orlando, Florida.