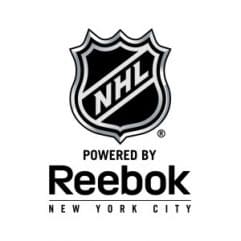 Launched on October 12, 2007, the NHL Powered by Reebok Store is located in the heart of New York City at 1185 Avenue of the Americas, at the corner of 47th Street. The unique space draws inspiration from hockey, as the game itself comes to life through the architecture, fixtures and materials throughout the store. Come and get your NHL fan gear, apparel, collectibles as well as Reebok footwear and apparel.
Features of the world's only NHL Powered by Reebok Store include:
– Exclusive NHL player and Stanley Cup appearances
– World's largest composite stick sculpture
– Larger-than-life graphics that highlight NHL players
– First-ever NHL-themed Starbucks Coffee location
– High definition projection screens and monitors displaying live in-game footage and NHL Network programming
– On-air studio where 'NHL LIVE' (weekdays, 5-7 ET) and 'NHL Hour with Commissioner Gary Bettman' are broadcast nationally in both the United States and Canada on NHL Network.
1185 6th Avenue,
New York, New York
10020
212 221 6375
MAP